Welcome To Our Skincare Site. We are dedicated to providing you with all the information you need to ensure a blemish-free skin.
We have tips on skin care, home remedies for pimples and reviews of products and therapies that really work for these and other acne blemishes.
Our Most Popular Articles This Week
To make browsing easier, if you look up at the top menu bar, you will see "site index" – clicking on this will give you an index list of all the articles on the site.
Please bookmark our site and, if you like our articles, please use the like and share buttons provided – we have just added a Pinterest button too so you can pin direct to your pinboards – thank you!
Please read on for more information on choosing treatment methods and dealing with cystic pimples.

How do I know which treatment to choose for my pimples?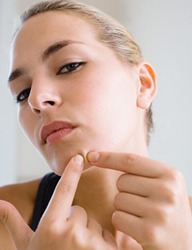 Ultimately, the best treatment method depends on the type of blemishes you have. Treating spots or acne is a lot easier when you actually know what is happening to your skin.
The most common form of acne is acne vulgaris, which includes whiteheads, blackheads, papules and pustules.
When a pore is totally blocked, bacteria, sebum (oil) and dead skin cells get trapped under the surface and the result is a whitehead.
If the pore is only partly blocked, some of the blockage is able to gradually drain to the skin's surface.
This results in blackheads, which are caused by the oxidation, a reaction with oxygen in the air.
Effective Cleansing, The First Step
If you suffer from whiteheads or blackheads, an effective cleansing routine is the first important part of your skin care plan. A salicylic acid cleanser will thoroughly cleanse and remove dirt, oil and other bacteria. If you have sensitive skin, go for a non-comedogenic gentle cleanser that will not aggravate your skin.
Twice-daily cleansing (morning and night) is the first step toward a clearer complexion. It is crucial to make sure you always remove all traces of makeup before you go to bed at night.
A spot treatment dabbed directly onto the whitehead or blackhead and left overnight is often effective at clearing it up. Make sure your hands are clean before applying the the treatment to your skin. Simply wash it off the following morning. Some natural treatments, such as tea tree oil, lime juice or fenugreek paste, may be used instead of an over the counter product.
Many dermatologists advise against "popping" as a suitable treatment for a pimple, no matter what type it is, but others may recommend it as a last resort. You should be aware that popping can lead to red marks and bleeding, and may result in permanent scarring if not done correctly. Only spots with a white head should be popped, either whiteheads or pustules (large red bumps on the skin with white or yellow centers).
Treatment at Home for a Cystic Pimple
In the following video, a dermatologist advises how to treat a cystic acne pimple at home if you cannot get to a doctor or dermatologist for treatment.
Before you pop, have a bath or shower to open your pores. Do not use your fingertips alone; place a sterile gauze or two cotton swabs over the fingertips and apply gentle pressure to the area.
Pimple extractor tools are widely available which can be used to pop; sterilize the tool first by rubbing a cotton ball soaked with rubbing alcohol over it. Press it onto the spot and push down gently.
Inflamed, red bumps on the skin, which do not have a head, are known as papules. Never try to pop these. Again, a regular, effective cleansing routine will help.
Changing your diet and lifestyle can often be a highly successful method of treating blemishes and breakouts.
Drink lots of water and avoid processed foods and foods high in salt and sugar; replace these with fresh vegetables, whole grains and pulses.
Severe acne vulgaris, consisting of nodules or cysts, acne rosacea and severe forms of acne such as acne conglobata, acne fulminans and gram-negative folliculitis are extreme forms of acne and should always be treated in conjunction with professional medical advice.
If you would like more information on how Acne is classified, this helpful page on the American Family Physician (AFP) website will provide you with the advice that you need. http://www.aafp.org/afp/2004/0501/p2123.html
In these instances, home pimple treatments are best not attempted with over the counter creams or home remedies as a combination of therapies may be needed to achieve the best possible results.