If you want effective pimple treatment without the fuss, Oxy Cleansing Pads would be a great product for you to try. The Oxy patented formula gets deep into the pores to tackle blackheads and other pimples at their starting point. They are not only simple to use, they are also really effective. The marketing for this product may be targeted at teenage boys, but the pads have an even bigger fan base amongst men and women in their twenties and thirties who love the product because it is truly, fuss-free!
How to use Oxy Pads
Oxy Maximum Daily Cleansing Pads are so simple to use. You just take a pad out of the pot and gently wipe your face with it to remove all dirt, oil and bacteria. You can see exactly how much grime has been removed (you may need to use more than one pad, depending on how much makeup you have on and how dirty your face is). Splash your face with warm water, pat it dry with a clean, soft towel, then finish off with your usual moisturiser.
The active ingredient in this pimple treatment product is salicylic acid, which gives it great acne fighting powers. However this potent ingredient is known to dry out the skin, so make sure you do not forget to use an effective, non comedogenic moisturizer afterwards. If you do find it to be excessively drying, it may be a good idea to limit your use to once every few days.
If you are desperate to get rid of your pimple breakouts and stop new pimples from appearing, you can probably live with a little dryness. What else do you need to know about this product? The best way to find out the truth is by looking at the reviews of other consumers. We have done this for you, and here are the results!
The good news for Treating Pimples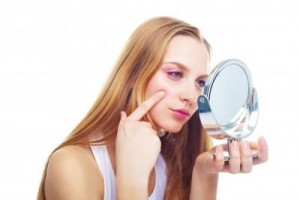 Incredibly easy and quick to use
Handy, portable tub
Good value for money
Great for those with stubborn acne
Some testers report that these pads have completely cleared their acne and even minimised scars

Customer Review:-
"My son has been using the Oxy Pads since he started having acne. Even though his acne has cleared up, he continues to use these to keep his face/pores clean. I like the fact I can order 3 in a package to save time and money."
The bad news
Very intense formulation, which may lead to dryness
Not suitable for those with sensitive skins
Some testers do not like the scent
Pads have a tendency to stick together
Extract from customer review:-
"… Oxy could be just what you need. And, it is much cheaper than ProActiv while being more effective (at least for me). The packs offered at Amazon are a great bargain and good way to ensure that you don't run out of product!"
Ultimately, no skin care product is going to please everyone! This particular pimple treatment product is not recommended for people with sensitive skin, due to the salicylic acid and alcohol. For other skin types, however, it is likely to product good results, at a very reasonable price.
Top Tip: If you like Oxy Pads, why not try Oxy Balance Maximum Strength Deep Pore Cleansing Pads which will help keep your skin free from breakouts?

Suffering from skin blemishes is no fun and it can be difficult to decide how to treat them when there are so many products available on the market. By comparing reviews and working out what is going to be best for your skin type, you can increase your chances of finding the pimple treatment that will clear your skin for good.