If you have wanted to try a hydrating serum for your skin, In this article, we are going to take a look at two products, Quench Hydrating Face Serum (the dry skin version) and Oil Free Quench (which is designed for oily skin) Both products are from Kate Somerville and I am providing a review of both products available so you can check out whichever is most suitable for your skin type.
The Philosophy Behind Kate Somerville Products
First of all, Kate Sommerville's business philosophy is refreshingly simple, she works to help people look and feel great by developing products that resolve skin problems. She used to suffer from Eczema herself. This is a form of dermatitis which comes from the Greek word for 'to boil' (read more about Eczema here) , so understands perfectly how demoralizing and confidence-sapping it can be to face the world with blemished skin or with skin that feels uncomfortably dry and sore. So, for Kate, helping people comes first and the business success has followed – I applaud her!
Why Both Dry and Oily Skins Need Quench Hydrating Serum
Whether your skin is dry or oily, it needs hydration. What people with oily skin often do not realise, is that by trying to rid their skin of excess oil to remove that oily shine, they may be making matters worse if they do not replace the lost moisture. Our skin makes sebum, a natural oil, to moisturise it. When we remove the oil and leave our skin dry, the oil producing glands (sebaceous glands) can go into a sort of 'over-drive' in an effort to compensate causing a vicious cycle that escalates if we are not careful.
How The Quench Serum for Dry Skin Works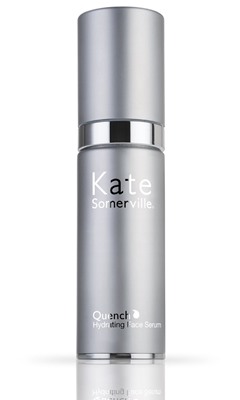 This is the dry skin formulation and is also suitable for normal-dry complexions. It is advertised to leave your skin feeling silky smooth and looking glowing.
This product contains a complex called HSC which is designed to be an "advanced hydrating system" that plumps up your skin's cells, locking in moisture. It also contains Lipids which are vital if you want the hydrating effect in your skin to last and they help skin to retain elasticity making it less prone to wrinkles and lines. Wheatgerm in the formulation helps skin to become firmer too, counteracting the aging effects of gravity!
Another key ingredient is RetiStar1 which, in combination with the HSC complex helps to speed up the turnover of cells to help you achieve that glowing complexion. The powerful form of Vitamin A really does help to promote healthier looking skin. For more mature ladies like myself, this products combination of ingredients helps to defend the skin against the signs of aging – which is a big plus for me!
Don't Use This Product if You Have OIly Skin
Almost anyone can use this product except for those with very oily skin or complexions prone to acne breakouts (who should use the oil-free product). You do not have to wait for the first signs of aging on your skin to start using it and basically it is suitable for people of any age.
It really does help to achieve a more glowing, dewy-looking and luminous complexion. It is actually quite economical to use as only one pump of the dispenser is needed to give the required coverage on face and neck and it can be used twice a day, morning and evening. Some people report that using only half a pump of the serum produces the desired effect but as I am older with dryer, more mature skin, I would use one pump myself.
It's Easy To Use
It is pleasant to use and you just need to gently massage it in and leave it to absorb. I generally cleanse and dry my face in the morning and befre applying the hydrating serum, then go and have my breakfast before coming back to apply my moisturizer. Make sure you use a day time moisturizer with the appropriate SPF for your skin. At night, I just wait a few moments after applying the serum before I apply my night-time moisturizer.
Atmospheric pollutants are another main cause of skin aging. In addition to protecting against photoaging, the HSC complex in this Quench Face serum also helps to counteract the adverse effects of environmental pollutants and toxins and the effects of sun and wind.
Sample of Results from Review Sites
| | | | |
| --- | --- | --- | --- |
| Review Site | Average Customer Rating | Number of Ratings | Number of 5* Ratings |
| QVC | 4* | 111 | 67 |
| Sephora | 4.4* | 160 | 111 |
| Meccacosmetica (au) | 4.8* | 6 | 5 |
Interestingly, the product was much more popular with older reviewers – which perhaps should not be surprising as it is designed for normal to dry complexions and younger reviewers with oily skin did not rank it highly at all – but then, they probably should have been using the oil-free serum.
This was especially noticeable in the makeupalley review where the product only achieved a rating of 2.8* with four reviewers – however, two were young, with oily or combination skin and of the two older ladies one gave it 3* and the other 4* – so it is always worth checking the details of star ratings but lots of ladies in my age group seem to agree with me – this is one review from a lady on the QVC channel:
"Like everyone else, I've tried them all. At 57, I've had time to do that, but I won't be looking any farther. This is the best there is….My skin has improved 110%, and my wrinkles have decreased 110%. My skin is as moist and supple as it was 20 years ago. What else can I ask for? Takes very little, so the bottles last and last."
Don't Just Save Quench Serum for Your Face!
Another great tip with the party season coming up and perhaps having the opportunity to wear a "strappy" evening dress revealing shoulders and upper arms and perhaps a little more of the décolleté than normal, is to use Quench serum on these areas too as it really gives a lovely sheen to the skin and makes it feel silky soft too.
Buy Quench in a Larger Size and Economise!
My top tip? If you are using this product for the first time, you would probably want to buy the one ounce version to be sure it is right for you but, if you are a fan, (like me), you can save money by buying the two ounce version. This way you save around 25% per ounce – and it lasts ages! Or, if you want to treat someone to a real luxury for their skin, this makes a great (and much appreciated gift if you are reading this, lovely hubby!), for birthday or Christmas.
It's The Perfect Serum for Black Skin Too!
Whilst I was researching before writing this article, I learned that black skin has a higher rate of water loss from the skin's surface than white skin. This process is called Transdermal Water Loss – (or TEWL for short). The reason for this is that there are more layers in the stratum corneum, the uppermost level of the skin (22 layers in black skin, compared with only 17 in white skin)2. Reviewers with black skin said that they loved the glow it gave their skin, it made their skin feel smooth and silky and also helped with the appearance of lines and wrinkles.
Save on Quench Oil Free Serum from Amazon
The Moistruizing Lotion 50ml/1.7oz
The Moistruizing Lotion 50ml/1.7oz
Amazon Price: $285.94
List Price: $307.00
Tropical Plumeria Flowers are used in the formulation for hydration
Tropical Plumeria Flowers are used in the formulation for hydration
Source: Image: Morguefile (cropped)
Oil Free Quench – Oily Skin Needs Hydrating Too!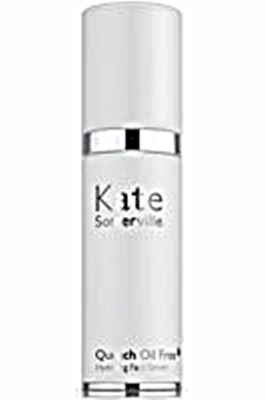 I cannot give a personal review of the Quench Oil Free Hydrating serum but it does get great reviews. It is specially formulated to provide shine free protection for the skin because of its oil-free formulation. It is definitely a very different product than the one I use but it is perfect for ensuring oily skin is hydrated all day as it contains what the manufacturers call 'Dynamic Moisture Complex' which, like the HSC in the normal-dry skin product reviewed above, is designed to hydrate the skin fully and to help the skin retain that moisture better.
It also contains extract from Plumeria Flowers for this purpose. It also contains Matrixyl 6 peptides and Chronoline which work as anti-aging ingredients helping to decrease the appearance of fine lines and wrinkles. Other ingredients boost collagen production, increasing skin firmness. Users report an immediate skin tightening on application of the product and note that it helps to tone and refine the complexion, making their skin look glowing and healthy.
How to use? You just use one pump's worth of product, morning and evening and apply it to clean, dry skin. Give it time to absorb before you apply your normal moisturizer and/or sunscreen.
Conclusion on my review of Quench Hydrating Serum
Whilst star ratings are a great help in deciding whether to purchase a product or not, it is always a good idea to check a little deeper and find out whether those leaving the reviews were in the group that the product is targeted at. I found that most of the lower rated reviews were from those who either were in the wrong age group or had the wrong skin type.
If you are looking for a great product that lasts for ages and stays hygienic because of the pump dispenser, I can definitely recommend this Quench serum from Kate Somerville – and if you would like more great tips on skincare from Kate herself, her book Complexion Perfection (pictured) is a great read and would make a brilliant Christmas Stocking-filler this year!