Are you desperate to know how to get rid of pimples on your back? Have you tried various pimple treatment creams and ointments with little success?
Maybe you need to start from the beginning and look at what is causing the blemishes. Back acne is no different from acne on the face; it is caused by blocked pores.
When an excessive amount of sebum (oil) is produced, dead skin cells get trapped in the pores and this attracts bacteria, which leads to pimples. This over-production of oil may be down to hormones, genetics, stress or diet and lifestyle factors. Teenagers often suffer from back pimples because their bodies are going through puberty, which plays havoc with hormones.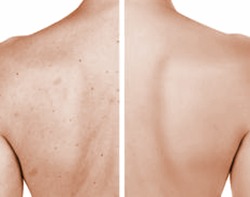 Your first step in how to get rid of pimples on the back is to adopt a regular washing routine. Take a shower or bath every day, use an anti-bacterial soap (use a mild product on sensitive skin) and pay close attention to your back. Avoid excessive washing however as this can dry the skin out.
If you often play sports, jog or you have a physically demanding job that causes you to sweat, take a shower as soon as possible afterward, to stop the perspiration getting trapped against your skin, mixing with the dead skin cells and oil, and increasing the likelihood of pimples.
The next important step is exfoliation, which you should do at least once per week. This removes dead skin cells. Try different types of exfoliators, such as loofahs, body brushes and scrubs, until you find the one that works best for your skin type. A sugar-based scrub is preferable to a salt-based scrub, as it will be more gentle on your skin. As with all skin products, keep an eye out for any adverse reactions.
A medicated ointment or gel, such as benzoyl peroxide or salicylic acid, is necessary to eliminate back acne. Make sure you never use these two products together, as they don't mix well! Choose one or the other; many people find a 2.5% benzoyl peroxide solution to be effective in clearing or at least significantly reducing back pimples. Apply your chosen product to your back around ten minutes after washing and leave it to dry completely before you get dressed, to avoid staining. Complete the process with an alpha-hydroxy moisturizer to keep your skin nourished and stop it from drying out.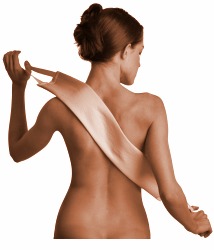 Many people have difficulty applying cream or lotion to their own back as there always seems to be a bit that is just out of reach!
This is where an applicator product like the Body Buddy Non-Absorbent Lotion Applicator could be a big help – it is non-absorbent so you will not be wasting expensive creams and lotion. (The link provided takes you to the Amazon product page where you can read more).
It is well worth a try if you want to ensure you reach all the spots on your back and the body buddy can be machine washed to freshen it up if required. See the short video below.
Treat Back Pimples – Apply Cream The Easy Way!
Now that you know how to get rid of pimples on your back, stop them from coming back by following a few simple steps.
Keep all clothing, bedding, towels, and any other fabrics that come into contact with your skin, clean. Use hypo-allergenic detergents and fabric softeners to reduce the risk of irritation and do your laundry more often to keep everything sparkling clean and free from bacteria-attracting dirt.
Pimples on your back are not easy to eliminate but if you are persistent and meticulous about hygiene, you will be successful.