Pimple Cream is available in a wide variety of formulations and brand names, all designed to treat different types of pimples and acne. The best products will contain certain ingredients chosen to not only target existing blemishes, but also help minimize future breakouts.
A medicated cream will often contain benzoyl peroxide, which is very effective in treating existing blemishes and reducing the appearance of future ones. It dries out the skin, however, so it is important to follow the manufacturer's directions for use. It may not be suitable for very sensitive complexions.
Benzoyl peroxide makes the skin more sensitive to sunlight, so if it is the active ingredient in your chosen treatment cream make sure you wear sunscreen. Some of the best-selling over the counter products that contain benzoyl peroxide are Clearasil and ProActiv.
Another known ingredient in topical pimple treatments that works, is salicylic acid, which acts as an exfoliant and helps remove dead skin cells from within the follicles. Some over the counter products that contain salicylic acid are Oxy products, Noxzema Anti-Acne Gel, Noxzema Anti-Acne Pads, Stridex products and Dermalogica Medicated Clearing Gel. It is important to apply the product over the entire facial area, not just on the spot itself.
Choose one product, based on whether you prefer a cream or gel-based treatment (acne pads are considered to be a good place to start). Using more than one product simultaneously will only dry out your skin too much and could cause discomfort.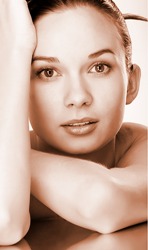 If you prefer a treatment for your pimples that contains only natural ingredients, rather than choosing a medicated one, go for a product made up of fruit acids and organic botanicals. Popular all-natural acne treatment products include Pure Pores Blackhead Remover and Pore Minimizer Gel, which claims to be a gentle, non-drying way to remove blackheads, shrink large, unsightly pores and absorb excess oil.
Another product is Desert Essence Blemish Stick, which contains all-natural ingredients such as tea tree oil, which is well known for its acne-fighting anti-inflammatory and antibacterial properties. This is a spot treatment designed to be applied to individual blemishes (rather than the entire face) once in the morning, before applying makeup, and once at night, before going to bed.
This product is 100% vegetarian and is not tested on animals.
For some people a combination of natural and medicated ingredients is the key to getting rid of pimples and blemishes on their skin. DDF BP 5% with Tea Tree Oil combines benzoyl peroxide and tea tree oil in one product to destroy blemishes and treat the skin to boost its resistance against future pimples.
Learn More About Tea Tree Oil
There have been a number of scientific studies that have proven the effectiveness of Tea Tree oil, used topically for treatment of acne and pimples. Some of these studies are referenced in this interesting and informative article by New York Times columnist, Anahad O'Connor, published on the Paper's website on January 27th 2011. However, in the article, Anahad also points to a report by the Mayo Clinic that highlights some potential problems with Tea Tree oil for people with exzema and other sensitive skin conditions as the oil could cause blistering and irritation and so should be used with caution. Another point highlighted in the article for me was that the oil can have severe side effects if swallowed and so this reminded me that I should be particularly careful where I store mine in the bathroom, well away from little hands! You can read the full article, entitled Remedies: Tea Tree Oil For Acne, by following the link provided.
Ingredients To Look For When Choosing Cream For Pimples

With so many products on the market, and new formulations being developed every day, it can be difficult to choose just one to treat your skin blemishes with. It may take time to find the best product for your skin. Consider your skin-type, which will help you to narrow down your options. Some products are created with oily teenage skin in mind, while others are more suitable for dry, sensitive skin.
Consulting a dermatologist will allow you to benefit from professional advice and help you to choose the best and most effective pimple cream that is tailored to your own specific skin type and requirements.