Many home remedies for pimple scars can be very effective but their success largely depends on the type of scarring you have and how persistent you are prepared to be in treating them.
Here is a collection of the most popular pimple scars homemade remedies collected from across the Internet. Before you try any of them, be sure to test on a small, inconspicuous area of skin first to see if there is any sort of unwanted skin reaction.
Whilst these remedies do not contain the strong chemicals of some acne medications, they nevertheless contain effective ingredients that can cause allergic reactions in some people – better safe than sorry!
Home Treatments Using Honey For Pimples Scarring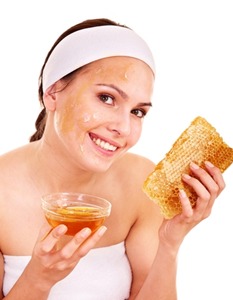 Honey is a wonderful healer and a natural antiseptic. You can apply this to pimple scars as it is or add a small quantity of freshly squeezed lemon or lime juice.
Honey can also be mixed with freshly grated nutmeg to make a paste which should be applied to the affected area as a mask for about twenty minutes, twice a week.
Make a honey and apple face mask by finely grating one apple into about five tablespoons of runny honey. Mix well and apply to cleansed skin. Relax for about fifteen minutes before removing surplus mixture with facial tissues and then rinsing your face with cool water.
Make a honey and wheat germ mask by mixing warmed honey with enough wheat germ to make a paste. Spread this gently onto cleansed skin and leave for about fifteen minutes. Tissue off as before and then rinse your face clean. For a gentle exfoliating effect, massage your face lightly with the honey and wheat germ mixture before removing it.
Make an exfoliating facial scrub by mixing equal quantities of granulated sugar, honey and bio 'live' yogurt. Smooth this mixture onto your cleansed face, leave for about ten minutes and then massage gently in light, circular movements before rinsing off.
More Acne Scars Home Remedies In This Helpful Video
Fruit and Vegetable Remedies For Pimple Scars
Apply potato slices or blend raw potato to form a paste that can be applied to your skin. Leave on for about fifteen minutes before removing and rinsing your face with cool water.
Tomato juice and lemon juice both work well on pimple scars. For best results apply only to the blemishes and leave on for about fifteen minutes each time. Be careful though as the acid in the juice can dry out your skin and can also cause a reaction on sensitive skin.
Apple cider vinegar is also good for this purpose and is also acidic. Use in the same way as the tomato and lemon juice above or make into a paste with baking soda and apply to your blemishes. Leave in place for a few minutes until the baking soda dries and then rinse off. If your skin is not sensitive, you can leave it on for longer.
Tomato can also be made into a face mask which is very good for fading blemishes. Just chop a ripe tomato and add a teaspoon of fresh lemon juice and enough oatmeal to make a paste. Use the paste as a face mask; relax for ten to fifteen minutes before removing the surplus with facial tissues and rinsing your face with cool water.
There are many home remedies for pimples, scars and acne blemishes that are very effective. However, none of them are 'overnight miracle' cures. All need persistence and repeated use over several weeks to be really effective. If your skin is oily, I would definitely recommend using the oatmeal mask which I have found leaves the skin wonderfully smooth and soft and really seems to help even out skin tone.