Editor's Note
If you have problems applying acne treatment products to body acne – or even just struggle to apply your normal moisturizing lotions to those hard to reach areas, you might be glad to know about the "Body Buddy" which enables easy application on a non-absorbent applicator so you will not waste expensive products either! You can find out more about the Body Buddy by visiting the product page at Amazon

Too often the topic of body acne is overlooked; given how commonplace its occurrence, it is nothing to be ashamed or embarrassed of. The presence of pores throughout our bodies lends itself the possibility of seeing spots anywhere – breakouts are not just limited to the face. While it is possible to let those irritated areas heal themselves by way of daily, thorough cleansing, there are options available specifically formulated to target back and chest acne.
First things first: check the ingredients of your current body wash, shampoo, conditioner and detergent. While breakouts are the result of a number of internal and external factors, more often than not they are a negative reaction to a certain product ingredient. When possible, go botanical or all-natural to ensure no chemical irritants are exacerbating skin conditions or provoking sensitivity. Always be sure to rinse off all soap residue. It seems to be completely inconsequential and common sense, but keep in mind that the smallest things make all the difference. Taking the time for this alone can make a difference in the clarity of your skin. By thoroughly cleansing the skin and (gently!) exfoliating regularly, the probability of congestion is decreased.
Sometimes this is all you need to clear body acne.
If, however, the breakouts persist, the next step is to invest in a skincare regimen that extends beyond the face. Take care of your body. You cleanse, tone and moisturize your face daily – it only makes sense to do the same everywhere else.
Skin is skin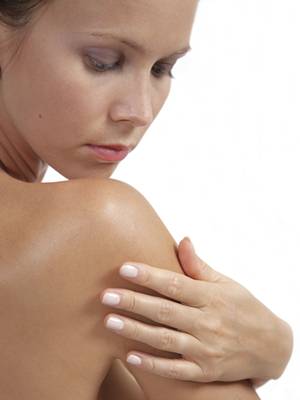 Treat body acne as you would breakouts on your face. The same principles apply: be gentle, be kind and most importantly, be patient. The only difference is in the ingredients: products made for the chest and back are typically stronger and more highly concentrated than ones meant to help fight facial acne.
Try using your go-to acne skincare products (cleansers, spot treatments, etc.). Doing so typically works well – these products are, after all, designed to fight acne. Start gentle, and slowly work your way up in product strength.
Anything too potent will not only dry out the skin, but will also further irritate already stressed skin. Do not be tempted by the idea of instant gratification: gentle is just as effective, and is always far more rewarding in the long run. Spot treating is only effective for the occasional blemish; it takes following a regimen diligently to see lasting results.
Finding the right body wash is instrumental to the clearing process; it is, after all, the foundation of body care. Veer away from the bar soaps and look for cleansers containing fruit extracts – Alpha Hydroxy Acids (AHAs) – instead. A common cause of acne is the inability of the skin to shed dead skin cells. Over time, this buildup forms a layer that traps dirt, oil and any other residues (from hair and body products) in pores and leads to acne. This is where AHAs come in: unlike your traditional exfoliants, AHAs are not grainy. These fruit extracts gently buff away dulling buildup without aggravating the skin, thus preventing future breakouts.
Should you continue to see back and chest acne, there are acne treatment products designed exclusively for use on the body (never use these on the face!). An essential in treating body acne is toner. Look for a toner with an alcohol-based formula – an astringent, technically speaking – to add to your daily post-shower body care routine. The strength of the astringent is based upon the percentage of alcohol present. Work your way up: anything too strong will only strip the skin and leave it more aggravated than before.
The ideal toner would list alcohol, sulfur and cucumber extract and/or camphor as its main ingredients. The alcohol and sulfur would help to thoroughly cleanse and disinfect the skin while drying up pimples and excess oil, thereby treating current breakouts and preventing future ones. These drying properties are then balanced by ingredients like cucumber extract and camphor, helping to cool and soothe skin.
Use your best judgment when it comes to your skin. A stinging sensation is normal, but if it burns or feels uncomfortable, rinse the product immediately and consult a dermatologist or skincare specialist for advice.
Keep in mind that the best thing you can do for your skin is to be patient with it. Be consistent with your routine and, in time, you will have the healthy, clear skin you have worked for and deserve.
This is a guest post from Kim Yang who is a blogger, sometimes freelance writer and full-time business school and journalism student. Previously the fashion editorial intern for two boutique magazines and now writing for Mario Badescu Skin Care.